AC Repair In Wesley Chapel, Zephyrhills, New Tampa, FL, and Surrounding Areas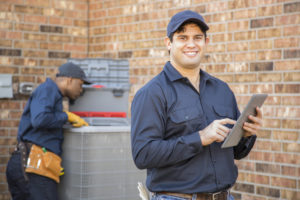 Sooner or later, your AC system is going to need AC maintenance in Wesley Chapel. And it might not really be as bad as you think. There are several 'easy fixes' that you can try before deciding that the only way to go is to call for an AC repair. Here are some of the more common problems that can easily be remedied right at home. These simple fixes might just save you the cost of an AC repair in Wesley Chapel, FL.
Check the Electrical Breaker
If your system hasn't engaged itself to 'start' or 'run' mode, go to your breaker box for the whole house. Inside the directory panel, locate the breaker for the Air Conditioner, or AC. Once you locate the specific breaker, (HINT: IT WILL BE ONE OF THE LARGER ONES)make sure that it is in the 'on' position and not the 'tripped' position. If the breaker is indeed tripped, reset it by pushing the breaker all the way to the 'off' position and flipping it back to the 'on' position.
If this solves your problem, the unit should dramatically come to life. If the unit does not respond to resetting the breaker, you might just need to schedule that AC repair.
Check the Thermostat
Make absolutely sure that your thermostat is set to the cool position and the temperature set for the unit to run is working properly within the thermostat. Also, make sure that the fans are set to auto on the thermostat. If by adjusting the temperature your AC comes to life, you will have saved yourself an AC repair. If not, then by all means contact us so we can properly diagnose the problem needing AC repair.
Professional Air Conditioning Services in Wesley Chapel, FL
Summers in Florida are fun and pleasant until the air conditioner decides to stop working out of the blue. Surviving summer without an air conditioner is a true nightmare, which can be avoided by preparing your system before the season. Air conditioners are a necessity and have to be diligently maintained to avoid any mishaps. 
A quick inspection or AC repair in Zephyrhills, FL, can be highly beneficial. Franks Air Conditioning and Heating, a professional AC company in Wesley Chapel, can assist you in your mission to prepare your air conditioner. With a few fixes by our team, your air conditioner will be ready to run seamlessly throughout the season.
Who Are We?
Franks Air Conditioning and Heating is an HVAC company providing multiple air conditioner services in Zephyrhills, FL. Our team consists of NATE-certified technicians who know their systems in and out. From the beginning, our motive has been to offer comfort and satisfaction to our customers with our quality services. We serve residential, commercial, multi-family, and new construction areas. 
What Services Can You Call Us For?
We feel happy when we can help you with all of your HVAC and air conditioner needs, and so we offer a wide range of services, ensuring that you can always trust us with your system. Here is a list of all the air conditioning services in Wesley Chapel, FL that we offer:
AC Installation

AC Tune-up

AC Maintenance

AC Service

AC Repair

AC Replacement
Call us for any service related to air conditioning, electrical checks, cleaning, indoor air quality checks, etc. are always included. Moreover, our team even guides you about all the measures to undertake to prevent damages and failures in the system in the future. Our team is always prepared to answer questions you may have related to your air conditioner. 
Reasons to Choose Franks Air Conditioning & Heating
An air conditioner is a valuable device and cannot be entrusted to someone unreliable. Over the years, we have gained experience to offer quality services and garner the trust of our customers. Customer satisfaction is the driving gear of our AC company in Wesley Chapel, FL, so we try our best to preserve it. Here's why you should choose us for your air conditioning needs:
Always On Duty:  

With our emergency services, you can call us whenever a problem arises, without worrying about the time. Our expert technicians are ready to help 24*7.

Affordable Rates: 

All our services are priced at a reasonable rate so that you can avail the best services without overspending.

Thorough System Check: 

With all our AC services, your system undergoes a complete system check done by our technician. We even offer a SEER calculator to measure the efficiency of your system. 

Skilled Technicians: 

All our technicians possess a NATE certification and have adequate experience solving air conditioner issues. Even the equipment that our technicians use to fix your system is of top quality. 
Get In Touch!
To schedule an AC repair in Wesley Chapel, call us today!
Hopefully, you can successfully start your AC system with the two above-mentioned issues. And if not please contact us so we can give you the absolute best air conditioning repair in Wesley Chapel, Florida.